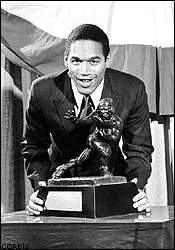 It's that time of year again to start bitching about the BCS and the Heisman race. BCS bashing is boring because no normal human being can justifiably argue that the system works. We are stuck with the BCS. Deal with it. The Heisman award debate can be fun though.  There are so many factors to include, so much drama surrounding the event and so much history. Here are some history facts about the Heisman award. There is only one Heisman award winner that killed his wife (see photo above). There is only one Heisman award winner that circumcises poor people. See how much fun this can be?
I've narrowed my list down to 4 worthy contenders. You may notice that the Texas Tech duo of Graham Harrell and Michael Crabtree are not on the list. Crabtree had a better 2007. He just ripped the world to shreds last year. Harrell, along with the nation's love for Texas Tech, died shortly after Oklahoma rained urine on his face. Anyway, if you don't like my list then maybe you should jump into a vat of acid.
4.
Tim Tebow

Our favorite foreskin harvester isn't having as good of  a year as last but you got to hand it to the kid. He spent the off season thanking Jesus for letting him circumcise poor Filipino boys. I couldn't possibly reproduce what I did last year if I spent my free time up to my elbows in Asian foreskin. Then again, all I did last year was get drunk. At this point Terrific Timmy does boast a 22:2 passing TD to INT ratio, 11 rushing touchdowns, 2214 yards passing, 427 yards rushing and a 65.8 completion percentage. Those are some pretty stellar stats but not good enough as compared to other candidates. Tebow does have the added security of facing Alabama for the SEC title. If he can single-handedly beat the Crimson Tide, then he may still have a shot with the voters. Regardless of what he does against Alabama, he wouldn't get my vote. My only hope is that Timmy decides to enter the NFL draft, gets selected by the Detroit Lions, thanks Jesus for the opportunity to play for the Lions and then ends up an alcoholic because he actually has to play for the Lions.

3. Shonn Greene
Let me just tell you, this kid is a straight shooter with upper management written all over him. He has rushed for over 100 yards in every game for the Hawkeyes. His totals for the year are staggering, especially for a guy playing for a middle of the road team.  Shonn has tallied 1729 yards rushing and 17 touchdowns. I know I'm being picky but I just wish he did more in Iowa's upset win over Penn State. It's also difficult picking a player whose team isn't in the top 25. It's a stupid precedent but it's a precedent that's been set. I like him more than Tebow though because Tebow is a jackass. I also want to throw in a black guy so people don't call me a racist AGAIN.

2. Sam Bradford
Oh boy, do I want Sammy to win the Heisman. I'm pretty sure he is the only candidate with savage blood coursing through his veins. The Native American tribes must be thrilled to have one of their own scalping the competition in the Big 12. That pride is quickly washed away with duty free alcohol. Sam Bradford had put together a year that makes me weak in the knees. He's got a 42:6 passing TD to INT ratio, 4 rushing touchdowns, 3710 yards passing, and a 68.2 completion percentage. Sam Bradford, take me to bed or lose me forever! Did you know he is only a sophomore. This savage is going to be wrecking shit in the BIg 12 for another two years. He'll get another shot at the Heisman. I sort of hope he does win the Heisman and the trophy is wheeled out wearing an Indian headdress. But my immature wishes are shamed away by another Big 12 quarterback.

1. Colt McCoy
I know, he's got a name that makes gay porn stars jealous but this guy can chuck the pigskin. He leads the Longhorns in passing, which is obvious, but also in rushing. Here are his stats: 3445 passing yards, 576 yards rushing, 32 passing touchdowns to 7 interceptions,  10 rushing touchdowns and a completion percentage of 77.6. His lowest completion percentage (58.8%) came in the loss to Texas Tech but I'd look past that little blip in the radar. He is a beast. I'm pretty sure Colt McCoy isn't from this planet and if he is, then his mother certainly didn't drink turpentine margaritas during pregnancy like most Texas natives. His 337 yard, 2 TD, 90.6 completion percentage game against Missouri is what got me drinking the Colt McCoy Koolaid (no, that's not a sexual innuendo). I'll guzzle that shit (again, no) all night long (okay, yes, this is a sexual innuendo). Now there are reports of Colt flirting with going into the NFL draft. Please let him show up to the combine drunk so that his stock drops, he ends up selected by Tennessee and starts over Vince Young.